Conference in a calm and creative Vineyard setting
Flädie Mat & Vingård provides a genuinely peaceful vineyard setting in the heart of the pulsating Öresund region.
We offer efficient, reasonably priced solutions whatever the requirement – smaller meetings, larger seminars or corporate events – and our creative, private conference facilities feature views over growing vines, church towers and the undulating Lunda plain. Irrespective of the size of your function, seminar or conference, we have suitable premises, furnishing and equipping the facilities according to your requests and needs. Our largest conference room is able provide theatre-style seating for up to 110 people.
It goes without saying that everything you need for a successful conference is available: Wifi, whiteboard, flipchart, projector, pens and pads. If further equipment is required such as microphones, radio mics and sound system, we can help you by hiring in whatever is necessary.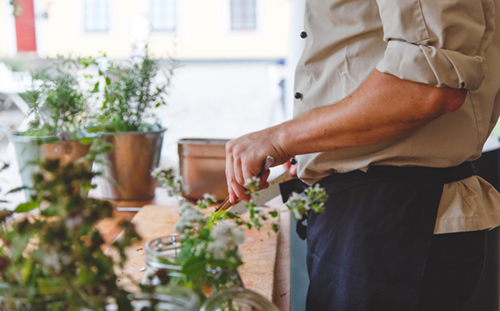 Conference with overnight stay
We very much recommend conferences involving an overnight stay so you can enjoy that much more of our delicious food and still have time for some of our popular activities. Learn to create special dishes with our chefs, or why not try to solve a murder mystery before dinner? You can also try the winery's own wines with our sommelier or take a guided tour of our vineyard and wine production facilities.
Our 29 tastefully decorated hotel rooms, with picturesque details such as exposed beams and sloping ceilings, provide a good night's sleep so that you wake refreshed in the morning. Perhaps you'd like to start your conference day with a stroll through the vineyard or, during the summer, with a dip in the pool?
We offer conference packages but are also more than happy to customise arrangements for your meetings, whether you are considering a conference with accommodation, a party or some other event.
A delicious dinner is always a much appreciated feature of any conference. We specially design our menus to perfectly suit each individual occasion, and our menus are always based on the season's very best raw ingredients, with many local suppliers represented.
Our menus are then served with a suitable offering of fine beverages – to accompany your dinner you can choose from an exciting range of wine menus, including our own wine menu featuring wines from our very own vineyard.