Flädie Mat & Vingård is a fantastic location for a wedding reception. We offer a variety of different settings which can form the background for different types of arrangements. Many couples choose to be wed in a lush vineyard setting, others in our beautiful gardens.
The Grappa Banquet room at Flädie Mat & Vingård
Our banquet room "Grappa" is located in a building that was once a stable, with a view out over the plains of Lund and a beautiful lush courtyard. Through the use of different table formations and settings, the room can be adapted to suit groups of different sizes. "Grappa" can accommodate up to 160 guests.  
The Winery Banquet room at Flädie Mat & Vingård 
Delicious food cooked with love!
We offer well thought-out menus with delicious food and perfect service that mean that you will never want to leave! Our cooking has its roots in the traditional Swedish kitchen, combined with inspiration from the rest of Europe. We specially design all our menus to perfectly suit each individual occasion, and our menus are always based on the season's very best raw ingredients, with many local suppliers represented. Our menus are accompanied by a suitable offering of fine beverages – perhaps even wines from our very own vineyard?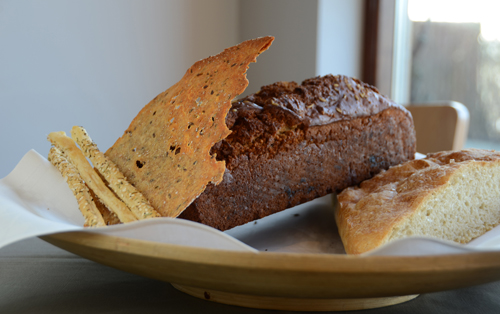 Hotel with Bridal suite
You and your guests will sleep well in our cosily furnished hotel rooms, with views out over the vineyard and with the plains of Lund and church steeples in the background. During the summertime you can add that extra touch to your stay with us by enjoying a drink in the gardens, a morning dip in the pool or breakfast among the wealth of greenery on offer.
The hotel also has a special bridal suite.